At the workshop/vitrine of textile designer Els Jacobs  3 women invited by Els, Nora De Rudder,Anne Marie Laureys, Ria Lins will create a dialogue using their materials: textiles, feathers,clay and silver… "Conversation Nouée". A conversation between 4 women each with their own specific approach on their material, creations as a second skin.Oeverture.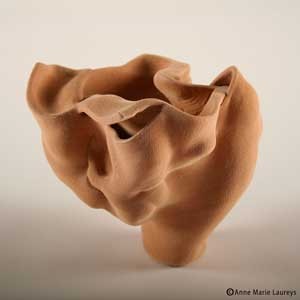 Something special: you are invited to join a conversation about the presentation of works in Ghent on Sunday September 8 from 14hrs till 18hrs.
The ceramics of Anne Marie Laureys on show at Conversation Nouée are curated by Annette Sloth from Puls Ceramics, Brussels.